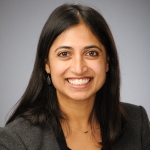 Nithya Rajan is a senior associate partner at Bellwether Education Partners in the Strategic Advising practice area. Prior to joining Bellwether, Nithya worked at the KIPP Foundation, where she launched a Knowledge & Impact function focused on strategic planning and formative program evaluation for the Academics and Talent teams. Nithya also served as vice president of strategic planning at Green Dot Public Schools in Los Angeles. In this role, she led a team focused on identifying growth opportunities, designing the organizational strategic plan, and facilitating its implementation across departments at Green Dot.

Before joining Green Dot, Nithya served as the interim executive director at the College-Ready Promise (one of the four Bill & Melinda Gates Foundation Teacher Effectiveness and College-Readiness Intensive Partnership Sites), facilitating collaboration across four charter management organizations working to strengthen teacher development and evaluation. Nithya entered the education sector through the Broad Residency, and also worked as a management consultant at Booz & Company in Chicago. Earlier in her career, Nithya was a mergers and acquisitions analyst at Wasserstein Perella & Co., and a manager of advertising operations at internet advertising company WhenU.com.

Nithya received a bachelor's degree from Dartmouth College in economics and Spanish literature and an MBA from the University of Chicago Booth School of Business. She lives with her husband and daughter in her hometown of Cary, North Carolina.