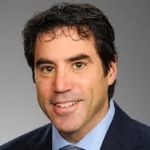 Founder & Chief Executive Officer
Scott Gordon is the founder and chief executive officer of Mastery Charter Schools, a nonprofit network of 24 public schools serving 14,000 students in Philadelphia and Camden. Scott was Mastery's first school's principal (2001) and led the network through its growth. Mastery is unusual in that nearly all of its schools are turnarounds of formerly struggling district neighborhood schools or charter schools. Mastery's turnaround work has been recognized by the U.S. Department of Education and President Obama for dramatically increasing academic achievement and decreasing violence.

Prior to starting Mastery Charter, Scott was a brand manager at General Foods and was the founder of Home Care Associates of Philadelphia, a worker-owned home health care company that trained and employed people on public assistance. The company received the Governor's Achievement Award for its welfare-to-work training program. Scott holds an MBA from Yale University. He is the father of two sons.