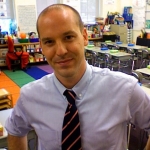 Tim Saintsing is the executive director of KIPP North Carolina, one of only a handful of public school districts serving rural and urban kids at scale.

Prior to KIPP, he was the executive director of Teaching and Learning Labs at the Relay Graduate School of Education, a national institution of higher education whose mission is to teach teachers and school leaders to develop in all students the academic skills and strength of character needed to succeed in college and life. Tim transitioned to this position after serving as Relay's chief operating officer for nearly five years, where he helped lead the school's expansion from one state to ten, and oversaw its day-to-day technology, finance, talent, human resources, enrollment, registration, facility-related, and student-support operations.

Prior to Relay, Tim helped launch and lead the country's first all-boys charter school, Uncommon's Excellence Boys Charter School, as its founding co-director of operations. Prior to Uncommon, Tim served as a special assistant for No Child Left Behind for the New York City Department of Education. He earned his bachelor's degree in political science from Davidson College and his master's degree in public policy from Duke University.